16 May 2022
Harvesting the gut microbiota to boost immunity
There are trillions of microorganisms living in the human body. The majority of them live in the gut. These numerous good and bad bacteria together form an ecosystem known as the "gut microbiome". The balance of this ecosystem not only affects our gastrointestinal health but also plays an important role in the functions of our immune system and our brain.
Professor Francis Chan and Professor Siew Ng began research in the gut microbiome field more than 5 years ago. Their team had identified novel bacteria signatures that characterized different gut disorders including colon cancer, inflammatory bowel disease and autism spectrum disorders. They have also developed the first and most comprehensive fecal microbiota transplantation (FMT) programme in Asia which involves extracting healthy microbiome and "planting" the good microbes into the gut of diseased individuals to improve health. Recently, they have made important discoveries during the COVID-19 pandemic and have successfully developed a microbiome immunity formula to hasten recovery and boost antibody formation in patients with COVID-19 via restoration of the gut microbiome.
Balancing the Gut Ecosystem to Alleviate COVID-19 Symptoms
The duo set up the Microbiota I-Center (MagIC) under the auspices of the Innovation and Technology platform (InnoHK) at the Hong Kong Science and Technology Park in 2020. The centre focuses on harnessing and translating human gut microbiome into novel innovations for early disease detection and prevention. Its unique and centralised microbiota stool bank aims at providing Hong Kong and Asia with safe FMT preparations for clinical and research use, and at translating the technology of fecal microbiota transplantation and live biotherapeutic products into clinical applications.
The team has achieved numerous breakthroughs during the COVID-19 pandemic. They are the world's first research team to report that COVID-19 patients had imbalanced of gut microbiome which was associated with immune dysfunction and more severe disease. Using big data analysis of thousands of metagenomic microbiome datasets, the team has successfully developed a targeted microbiome immunity formula that is now available for clinical use in Hong Kong and South-East Asia.
"Restoring the gut microbiome is a potential new direction in the treatment and prevention of long term complications in patients with COVID-19. We have analysed the gut microbiome of 150 COVID-19 patients and 1,500 healthy people individuals and identified microbiome signatures that are associated with a "favourable" immune function. This formula has shown efficacy in clinical study, is suitable for Asians and can help strengthen immunity."
One Gut Microbiome, a Thousand Applications
Professor Chan and Professor Ng began their research in FMT in the early 2010s. They have since introduced the FMT technology to Hong Kong with the aim to cure life threatening gut disorders such as those caused by Clostridioides difficile.
"An 88-year-old man was homebound for over three years due to severe diarrhoea caused by a bacteria called Clostridioides difficile. He came to us with desperation. We transplanted the good microbes extracted from his son's stool into him and within six hours his condition was cured and he had the first normal bowel movement in three years. He was extremely grateful." said Professor Ng.
The success of this case has inspired the team to expand their FMT research to non-gut disorders. "We have identified compositions of the gut microbiota that is related to diseases like diabetes, obesity, autism and colon cancer by analysing the DNA of the fecal microbiota. The fecal microbiome can serve not only as non-invasive markers for disease prediction but also has a role for disease treatment. For example, in our recent clinical trial, an obese individual can lose eight to ten kilograms in weight after fecal microbiota transplantation. This technology is very promising and we are now selecting the optimal patient for microbiome-based therapeutics," said Professor Chan. 
Furthermore, the team has reported a groundbreaking discovery that children with autism spectrum disorder showed delayed gut microbiome maturity compared with typically developing children. The research team examined stool samples from children with autism spectrum disorder and identified five unique species of bacteria that were not typically found in the guts of children without the condition. These findings offer new hope for early diagnosis and intervention in these children.
To further promote research on the gut microbiome to Mainland China, Professor Chan and Prof Ng have developed a microbiome and health innovation centre in Futian, Shenzhen. Together with hospitals, collaborators and partners in the Greater Bay Area, they aim to collect stool samples from 100,000 mother-baby pairs (MOMMY cohort) for up to seven years to identify predictors for childhood diseases and to offer early intervention and prevention. "The gut microbiome has enormous potential and has created excitement for useful clinical applications. Our faculty is at the forefront of pioneering microbiome research and we will continue to foster inter-disciplinary effort to reach new horizons. We will witness a revolution in what microbiome medicine can offer to human health in the 21st century", says Prof Chan.
"The gut is our 'second brain' and the gateway to health. The chemical entities of the gut microbiome not only affects our health but also the functions of our brain. We need to nourish our bacteria to live a healthy life"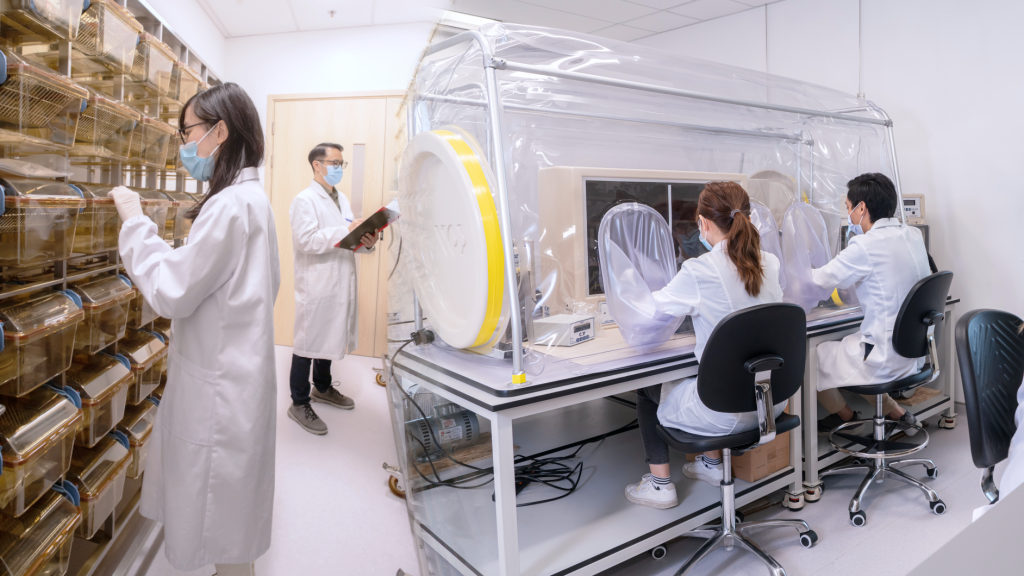 Professor CHAN Ka Leung, Francis

Dean of the Faculty of Medicine, CUHK

Director of the Centre for Gut Microbiota Research, CUHK

Research areas: Gastrointestinal bleeding, Helicobacter pylori, microbiome, cancer prevention

Major achievements:

The American College of Gastroenterology International Leadership Award (2018)
The State Natural Science Award, China (2016)
Croucher Senior Medical Research Fellowships (2007)
The first person to publish eight research papers in both The Lancet and The New England Journal of Medicine

Professor NG Siew Chien

Professor, Department of Medicine and Therapeutics

Director of the Microbiota-I Center, CUHK

Research areas: Inflammatory Bowel Disease, microbiome diagnostics, fecal microbiota transplantation

Major achievements:

Highly Cited Researcher (2020, 2021)
Croucher Senior Medical Research Fellowship (2020)
First-class award in Natural Sciences, Higher Education Outstanding Scientific Research Output Awards, the Ministry of Education, China (2020)
Visiting Professorship at Imperial College London and Cleveland Clinic